Welcome
Dear Friend,
Welcome to Ashbourne Methodist Church and Circuit!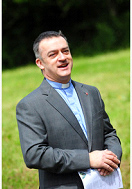 Our website will give you a flavour and feel of the wide range of worship,
ministry and activities we as a Methodist community are involved in.
All this takes a lot of time, talent and giving - and we are blessed to have
many folk who share those same gifts with us as an expression of their
faith and fellowship.
Our buildings are a rich heritage and legacy from Christians in previous
generations who also worked and witnessed to the Good News of God's love
in Christ.


Inspired by the Holy Spirit today, we seek to be disciples of Jesus,
serve the purposes of God and share his love in our communities
- to friends, neighbours and strangers.
Privileged to live in a beautiful part of the country, we welcome many visitors
all year round. So wherever you are from, and wherever you are on your journey of faith
- we welcome you with God's love and offer you the hand of Christian fellowship.
We are pilgrims on a journey,
And companions on the road.
We are here to help each other,
Walk the mile and bear the load
Richard A M Gillard, 1977
Rev Tim Morris
Superintendent Minister
Ashbourne Methodist Circuit