JMA - Junior Mission for All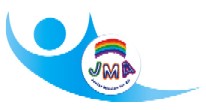 JMA Junior Mission For All
Connecting with the world, God and each other.
We have a JMA group in the Ashbourne Circuit for children and young people who follow the JMA promise to "Learn, pray and serve with the worldwide church of Jesus Christ". The Ashbourne group started in 2002 but JMA dates back to 1841!
Through JMA young people support and learn about the mission of the church at home and overseas. Each JMA member has a membership badge and receives copies of the Rainbow magazine. Annually, in the autumn, certificates and new badges are awarded to all the members.
Members try to regularly collect money from adults within their church, family and friends and may add some of their own pocket money. These funds assist local projects internationally and in the UK and since our group began £8525.72 has been raised.
Learning about Nepal
We have fun together in our social events, lunches and breakfasts and we learn together often by sharing with visitors with overseas experience. Through JMA we are connecting with the world, God and each other.
To join or support JMA please contact Ruth Mallard 01335 348342 ruth@mallards.me.uk